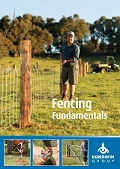 Practical and theoretical information for a range of farm fencing.
A technical manual is produced by a team of expert in-house engineers, who are all off farms and have years of industry experience. The technical publication is written in plain English and each article illustrated with step by step diagrams and photographs to instruct new farmers and the next generation of producers about the correct way to construct fences.
1) Fencing your farm for the furture
2) Tool time for first time fencers
5) Sighting a line for straight fences
6) Start with solid end assembly
7) Choose posts for perfect fences
8) Droppers bring wire together
9) Working with timber posts
10) Taking up the strain for taut fences
11) Star pickets for speedy fences
12) Working with prefabricated wire)
13) Getting into the swing of hanging gates
14) Put some spark into your electric fencing
15) Choosing the right size energizer
1. Neat knots for nimble fingers
111. Sharpening a chainsaw
iv. Posts get a drilling
17) index

Price includes GST, postage and handling within Australia.